History of the place
Where Cacti were established
The place, where you can find our restaurant and Hotel Diament Plaza Katowice at 9-11 Dworcowa Street, has an interesting history.
The building at 9 Dworcowa Street dates back to the beginning of 20th c. It's characterized by modernism. At first it was a seat of a Guild Hotel which played its role in the perion of Silesian Uprisings in 1919-1920, as a German plebiscite police station. These where the years when Silesia was torn between Poland and Germany.
The 11 Dworcowa bulding dates back to the second half of 19th c. Its architectural style can be described as historicism which is a trend in architecture which was referring to the past epoch stylistics. In the next interwar period, a railway administration office was based there, Argar Commerz Bank. Later, till 1939, there was a café Grang, Central hotel with 30 rooms, Kaiser-Automat restaurant by Charles Krieger. There are pictures documenting that times, which you can admire in our historical gallery.
In 1945, at 9 DWorcowa Street, a café and bar were opened, which in time were in the 50s. converted into Bookhouse bookshop and in the other part of the front facade, Cacti restaurant was opened, with characteristic cacti flowers in the restaurant window. Meetings of artistic bohemia were organized here, as well as politicians and dignitaries. Also Security Service workers were overhearing the talks there in the communist times. Entry was guaranteed based on special club cards.
Construction of the building at 11 Dworcowa Street decayed over the years and as a result of bad technical status, it was demolished in 2009. The parcel was bought by Hotele Diament S.A. company in 2016. Today, a four-star Hotel Diament Plaza Katowice is based here, at 9 Dworcowa Street you can admire the historic façade of the tenement house. At 11 Dworcowa Steer a new part of the hotel was built and its façade refers to the surroundings and bonds these 2 buildings. At the right side of the hotel entry, directly from the Dworcowa promenade, you can find entry to the legendary Cacti café which was reopened in a modern version with extraordinary menu.

Our cuisine
A ball of trivia about our menu
Do you know that only the Netherland-style matias is the original matias?
All other herring matiases are only a'la matias fillets. At Cati you can taste the original!
The dish inspiration in Cati menu was a tradition of well-known Polish herring in cream dish preparation.
Matiases are served with herring caviar. Have you already tasted the dish? It's worth it.
Tartar is known by everybody. In our menu card we offer game tartare, which used to be a type of meat which in the past reigned on the tables.
Smoked meat has a luxury dimension. You will be surprised with breaded yolk served with this dish.
Beef broth refers to former Borderland cuisine and its specialty: chicken stock with dumplings. Long cooking process and simmering result in rich aroma and extraordinary color. For extra taste, lovage, burned onion and leek were added. Thanks these actions, we guarantee an essential feast. Dumplings stuffed with beef tail meat are served with this soup.
Tomahawk, and yet a pork chop with bone. You will be surprised with its selection of flavors. It is specially marinated, cooked sous vide, fried on lard, with hollandaise sauce and a hint of tradition, bay bolete. Our chef recommend a glass of good bock to go along with this dish. You can find some option in our dink card.
The feast finial are desserts accompanied with excellent drinks. You must try chestnut cream. It is a sublime confectionery piece of art and it will create a long-lasting memory of the visit in Cacti café.
Welcome!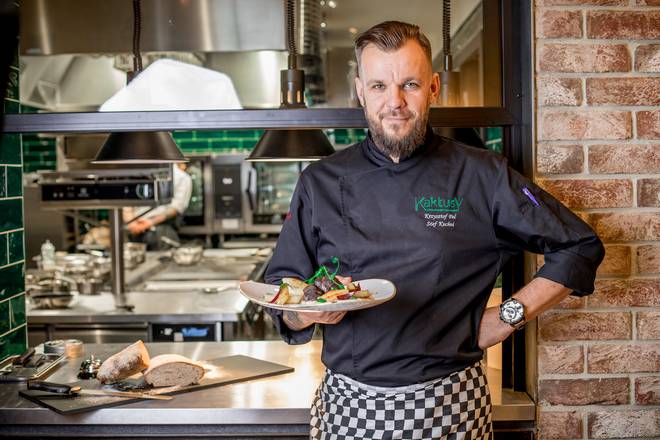 Krzysztof Peć
Chef
He is a chef by vocation, working with love and passion. In his culinary journey he learned the secrets of game recipes and Old-Polish specialties. He's an educated gastronome and his talents and skills were developed in the best restaurants in Poland. Some of them were created by him from scratch. He's an enthusiast of good food and new flavors. He's a laureate of numerous prestigious culinary competitions and a member of jury in school culinary competitions where he supports young adepts in culinary arts. Since 2021 he has been in the jury of Silesian Tastes Competition.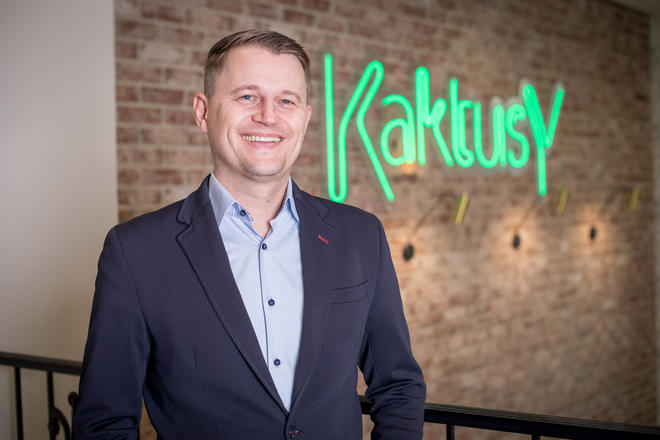 Łukasz Franczyk
F&B Manager
He's an experienced and efficient manager, working in the hospitality industry for over 20 years. He graduated from a gastronomy school and gained experience in various prestigious places in Silesia. He's a supporter of a holistic customer service approach which creates positive, homely atmosphere in a restaurant. Privately, Łukasz is a fisherman and an amateur cook and he is able to develop both passions in the fresh air.